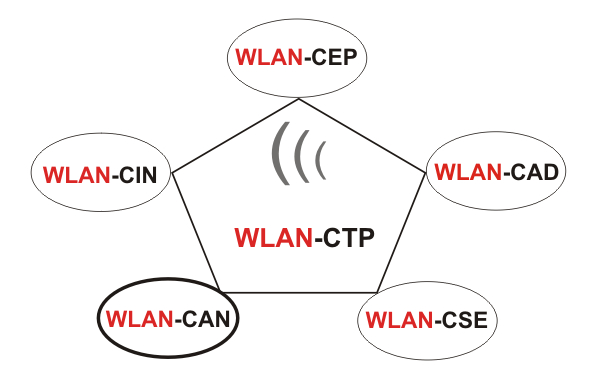 Wireless LAN Certified Analysis
(WLAN-CAN)
The Wireless LAN certified analysis (WLAN-CAN) certification is a progressive certification, which focusses totally on the analysis of troubleshooting a Wireless LAN system. The WLAN-CAN training starts with the frame structure and the exchange processes for the standards 802.11 (a/b/g), 802.11e and 802.11n series and leads to the usage of the basic knowledge how and when the tools are applied, which are available today for the analysis and troubleshooting of a Wireless LAN.
The participants receive a profound know how of the IEEE 802.11 (a/b/g), 802.11e, 802.11n frame structure, frame exchange processes, which are specified by the 802.11 standards, in order to analyse and troubleshoot any Wireless LAN system. A solid practical training covering the installation, configuration and the usage of the four market leading analysis products
· AirMagnet

· Network Instruments

· TamoSoft

· WildPackets

is conducted and the equipment of numerous well known vendors are placed for practice at the participants disposal.
All participants are conveyed the understanding for the necessity of the analysis products, current problems, which can be solved with the help of analysis products, and current features of analysis products. Unique is that more than 98 % of the industrial vendors of Wireless LAN analysis equipment consider see this training as supplement.
The WLAN-CAN certified participant is able to analyse and troubleshoot any Wireless LAN system securely with the leading software and hardware analysis tools on the market available.
WLAN-CAN advantage
The advantages of WLAN-CAN trainings and certification are i. e.:
proven progressive knowledge

confident know how of the cooperation of the IEEE 802.11 (a/b/g), 802.11e and 802.11n standards

understand the handling of the popular tools, which can be found in the Wireless LAN protocol analysers

detailed knowledge concerning the appropriate application of a Wireless protocol analyser

a thoroughly understanding of Wireless LAN troubleshooting with regard to performance and security aspects

a unique recognition of the certification

WLAN-CAN is the vendor neutral Wireless LAN analysis certification

The WLAN-CAN certification is without anything equivalent or competition and is recommended and recognised by almost all market leading vendor of Wireless LAN analysis equipment

proven knowledge to carry out a progressive troubleshooting and analysis

Maximal performance and security analysis, which is possible with the used protocol analyser

Troubleshooting from different kind of views with a multiplicity of Wireless LAN implentations

Verification of layer 2, 3 & 7 security solutions during a security check

Analysis of scenarios from the view of performance in a single mode and mixed 802.11 b/g mode environment

Detailed site survey and usage of the latest site survey features of a Wireless LAN protocl analyser
Covered topics
802.11 (a/b/g), 802.11e, 802.11n

MAC frames and involved processes

802.11 (a/b/g), 802.11e, 802.11n

physical layer trechnology

Usage of Wireless LAN protocol analysors and trace interpretation
www.wlan-ctp.de, www.wlan-ctp.eu, www.wlan-ctp.com, www.airdefense.de, www.cnti.de